The COVID-19 pandemic has drastically impacted businesses around the world. It has disrupted supply chains, restricted international travel and shifted consumer demands from unnecessary to essential products. If you're a CNC manufacturer, this may be a great time to seize new opportunities. In this article, we'll discuss how the coronavirus pandemic has impacted CNC machining and provide tips on how to pivot operations so your business can thrive during and after this global crisis.
Has COVID-19 Impacted the CNC Machining Industry?
COVID-19 is affecting a variety of manufacturing industries and sectors all over the world, including the CNC machining industry. Affected industries include:
1. Aerospace and Aerospace Engineering
Some of the impacted industries that first come to mind are the tourism and travel industries. With travel restrictions in effect in countries around the globe, travel is no longer a luxury. It is probable that only essential travel will be permitted for a while, which will lead to a decrease in how many planes different airlines might need. This, in turn, may result in a reduced need for CNC-manufactured aircraft components like manifolds, bushings, electrical connectors and more.
2. Automobiles
This sector has seen drastic changes already as a result of environmental regulations, and the pandemic will most likely further affect suppliers and process supply chains. The demand for new cars will likely be less as consumers are less willing to make big purchases during uncertain economic times. Accordingly, the demand for CNC-machined car parts used in passenger vehicles may decrease.
This is already reflected in terms of fewer new automobile registrations around the world. However, there may be a short-term increase in the demand for electric and hybrid cars. As people become more accustomed to the cleaner air that results from lockdowns and travel restrictions, they may be more interested in replacing their gas-powered vehicle with a greener one.
3. Oil and Gas
While there will likely continue to be a demand for oil products, experts predict it will be lower than pre-COVID-19 demand because of travel restrictions, decreased demand for new cars and lower usage of existing vehicles. CNC manufacturers may see less demand for the pins, pistons, valves, rods and other parts used in oil refineries and rigs. The demand for car and airplane parts will likely go down as well. However, this will probably occur in cycles, and the need for gas- and oil-based products will probably increase over time once demand begins to climb.
4. Information Technology (IT)
Movement restrictions and lockdown orders have led to increased home-based learning and working from home, which in turn has increased the need for better technology. Adequate bandwidth and speedy internet transmission are in higher demand than ever before. This will affect how people prepare themselves for work. Demand will increase for computers, smartphones, laptops, video conferencing cameras, wireless earphones and many other types of electronic goods, meaning the need for components like CNC-machined heat sinks and electrical insulation will also increase.

5. E-Commerce
E-commerce has grown tremendously during the pandemic. This growth impacts the value and supply chain, including the demand for routers and servers to vans, trucks, ships and planes for transport. CNC manufacturers that make parts for these devices will likely see increases in production.
6. Medical and Healthcare
As a result of the pandemic, demand has increased for ventilators, personal protective equipment (PPE) and other medical equipment. This sudden increase in demand, along with decreased production capacities and disrupted transport chains, result in certain places not getting the life-saving medicines and equipment they need.
To avoid this situation in the future, it is thought the production of essential health supplies will need to be moved to areas that need it, resulting in the building of new manufacturing capacities and the changing of supply chains. Many CNC manufacturers may begin to manufacture new medical equipment components to help out these supply chains.
How Has CNC Technology Been Impacted by COVID-19?
COVID-19's impact on the CNC machining industry has been significant, but for manufacturers willing to take advantage of new demands, it has also provided new opportunities. In this section, we'll discuss ways CNC machining factories can adapt in the coronavirus pandemic:
1. CNC Factories Are Using Downtime to Streamline Current Operations
The COVID-19 pandemic has shown us how complex and sensitive the worldwide manufacturing supply chain is. One event can easily cause many other things to change. If you work in CNC machining, COVID-19 gives you the opportunity to revisit the current operations of your factory and determine how you can make them more efficient.
Look over your business operations and make business continuity plans (BPCs) to manage your needs, both for the immediate, near and distant future. Although consumer demands may have changed for now, they will likely return to what they originally were over time. So, think of this crisis as a chance to maintain the CNC machine tools in your factory with preventive maintenance.
In addition to the preventive maintenance tasks that should be performed weekly, such as checking coolant levels and the hydraulic system, you can also use your downtime to perform quarterly or semi-annual maintenance tasks, such as cleaning the coolant tank of chips, sludge and oil. Other tasks you can perform are:
Removing and cleaning chuck and jaws
Checking your machine's leveling and, if necessary, adjusting it
Cleaning the radiator and inspecting the condition of fins
Inspecting wipers for damage
Cleaning and replacing damaged wipers
Draining the hydraulic tank and replacing hydraulic oil
Draining and cleaning out the lubrication unit
Draining and refilling the cooling unit, if your machine has one
You can also use any downtime to perform annual maintenance tasks, such as checking the condition of the machine beds, spindle lubrication systems and hydraulic systems. Other tasks you can complete are:
Checking the spindle for end play and radial issues
Checking the chuck cylinder for run out
Checking the tailstock for quill function and misalignments
Checking the turret inclination and parallelism
Checking the entire machine for air or oil leakage
Checking the headstock for misalignments or damage
You can also use this lull to train or retrain your machine operators. You could have them brush up on core machining competencies, or even learn new techniques or more sophisticated machine tools.
2. CNC Manufacturers Are Switching to Flexible Manufacturing to Accommodate Fluctuating Consumer Demands
Throughout history, manufacturers have shown resilience in how they adapt to changes in consumer demand. For instance, several decades ago, manufacturers shifted from the then-thriving hard disk drive industry to gas and oil products. In a similar fashion, the CNC machining industry can now shift from industries like gas and oil to medicine and other industries of higher demand.
For manufacturers to successfully pivot, they may have to invest in more sophisticated tools that can handle flexibility and automation in manufacturing. By investing in multi-axis CNC machines or smart CNC machine tools, your factory can adjust to constant changes in quantity, quality and design. In other words, you will be prepared for an economy that is constantly changing.
By adopting flexible manufacturing methods, you can also minimize manpower costs. Having an operator for every machine may not be cost-effective, and considering social distancing guidelines, you may want to avoid having your employees working directly next to each other. Automations will need to be chosen and designed to match individual manufacturing requirements and needs. In addition to speed, you must also ensure stability and ease when it comes to changing over the systems. By doing this, your factory can continue running operations all the time without the need for much human intervention.
An effective method for implementing flexible manufacturing is by adopting a flexible manufacturing cell (FMC). These systems consist of the same types of machines grouped together in cells with different types of CNC machine tools, which are turning, milling, measuring and washing, to maximize productivity on the shop floor.
Multi-axis flexible machines and higher-quality CNC machine tools allow you to increase demand in an economic downturn by helping you shift or change parts to suit new market needs. To achieve a flexible CNC manufacturing system, it should allow for either your tools or your workpieces to be interchanged. Other important features include: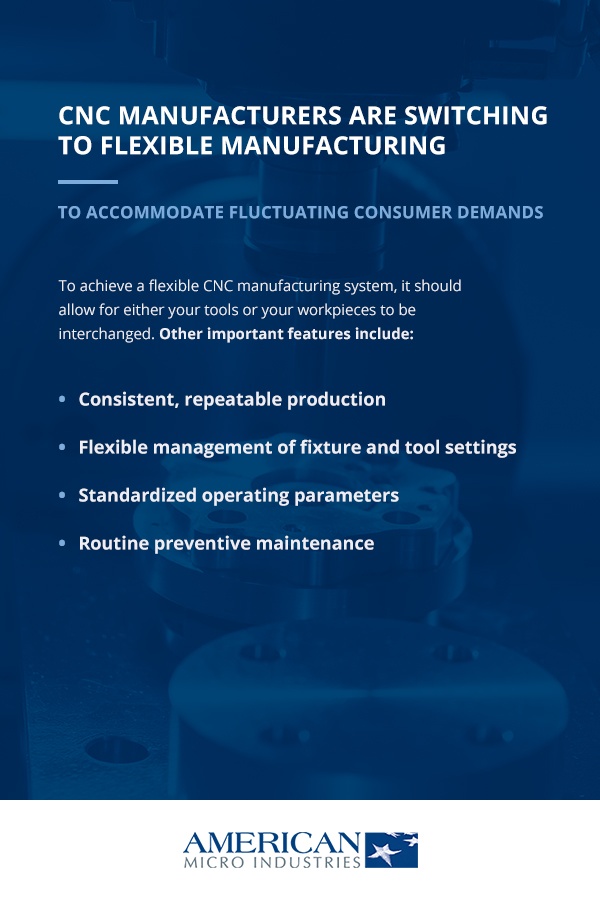 Consistent, repeatable production: You should be able to adjust your machine to handle changes in production volume, process sequence, design and more.
Flexible management of fixture and tool settings: The internal software of your machine should monitor your tool's status. If the life of your tool is coming to an end, it should provide a timely warning to minimize downtime.
Standardized operating parameters: You should use common programming standards so your operators and engineers can have access to the same files. Having standard coding procedures and operating parameters can ensure the same tools are utilized in the same way to produce repeatable results.
Routine preventive maintenance: Preventive maintenance is a highly recommended practice in flexible manufacturing. This includes simple tasks such as routinely cleaning exposed moving parts, clearing chips and checking oil levels. If you neglect these tasks, your flexible machining processes may be negatively impacted and your system could become less efficient over time. By cleaning, replenishing and replacing, you can ensure your machines' accuracy and long-term productivity. You may also end up saving more than you initially spent to buy the machines.
3. CNC Manufacturers Are Incentivized to Make Certain Parts That Have Increased Demand
Regardless of your industry, you should always keep your eye out for new innovations and technologies and see if you can find an economical way to produce new, in-demand products. In the CNC machining industry, you should be thinking of ways to retool your machines so they can produce in-demand components and parts. Can your factory incorporate new manufacturing practices and automation to modify the parts that are being machined?
As mentioned above, there is an increased demand for medical supplies. This means a company that normally manufactures engines for jets may be asked to make respirators. A company that makes perfumes may be asked to manufacture surgical wipes. Or a company that distills craft gin may be asked to manufacture hand sanitizer using their same equipment.
This increased demand for medical supplies — and the CNC machining industry's ability to meet that demand — partially explain why the future looks so bright for CNC machining. In fact, experts predict that from now until 2024, the CNC machine tool market will grow by $24.91 billion at a compound annual growth rate of over 9%.
4. CNC Manufacturers Are Using Downtime to Explore Alternative Manufacturing Methods
Many supply chains and their manufacturing processes have come under threat or lockdown. Other supply chains are recovering after being severely disrupted in the past several months. Under these circumstances, certain newer technologies — especially digitally based options like additive manufacturing — offer agility, capacity and flexibility. 3D printers are an example of a technology that has stepped up to manufacture parts that are unavailable due to a disrupted supply chain.


CNC machining is another technology that can help disrupted supply chains. It can help replace parts coming from heavily tooled industries unable to meet current demands. Switching to alternative manufacturing methods is sometimes the only way a part can get to where it's needed, when it's needed.
5. The Pandemic Has Encouraged the CNC Community to Work Together and Share Ideas
In these times of crisis, we all benefit from coming together, sharing ideas and helping one another realize these ideas. We are undoubtedly more creative and innovative when working together and cooperating as a team. This is true between co-workers and between other companies — even big competitors. After all, when people and technologies work together, great things can happen.
One great example of this is CNC technology's cooperation with woodworking businesses. When the coronavirus spread worldwide, AXYZ Automation Group reported their customers wanted to help fight COVID-19 by making cutting-edge products for safety supplies, such as PPE. They also realized their customers had no place where they could exchange and discuss these ideas.
In response, they decided to create an online group on LinkedIn, which anyone is allowed to join. Since creating this group, they have received a huge response from businesses that fabricate essential products that their communities need, including face masks and safety shields.
Explore American Micro Industries to Learn About Our Products and Services
American Micro Industries offers custom machining materials and services, and our manufacturing facility enables us to manufacture components to drawing specifications. All our products, including carving foam, rigid foam, plastics and phenolics, are made from the highest-quality materials.

Whether you require a certain material or custom CNC machining services, we have what you need. Visit our service pages to learn more about what we offer today.