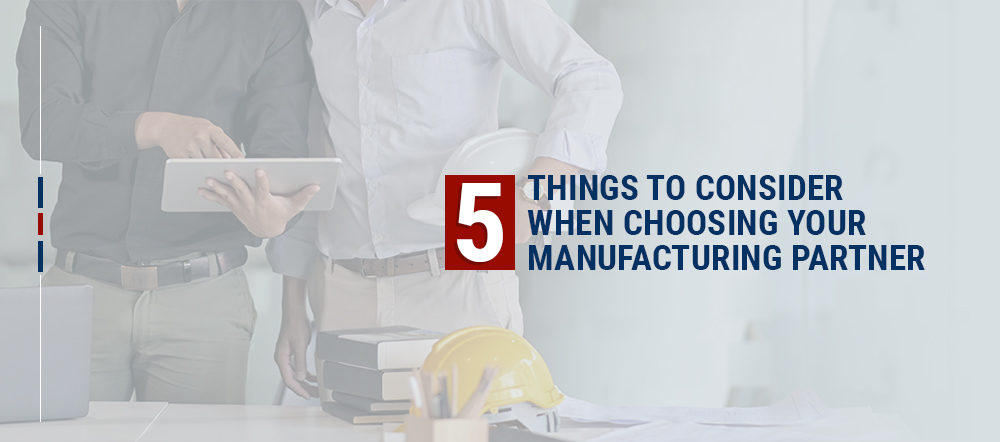 Experts predict that the CNC manufacturing market will grow at an annual rate of 5.5% and reach a value of $128.85 billion by 2026. Contracted manufacturing services are becoming a strong competitive advantage to help businesses expand their production capabilities. When you need specialty parts, a CNC contractor can reduce costs and manufacturing errors and let you take advantage of equipment and predictive analytics. So, here are a few things to consider in a CNC manufacturing partner to ensure a valuable addition to your team.
How Do I Choose a Contract Manufacturer?
According to the Precision Machined Products Association, 3,198 CNC manufacturing companies exist throughout the country. With so many partners to choose from, how do you narrow it down to the right one for your business?
First, it's helpful to understand why choosing the right manufacturer is so important. Much like evaluating job applicants, vetting candidates is a significant investment. Once you've spent so much time reviewing contracts, visiting facilities and comparing costs, you want the contractor you choose to act as a partner invested in your success. And, much like with your employees, retention is crucial. If your manufacturer doesn't meet expectations or cannot grow with your business, you'll end up on the hunt for a new partner, creating another investment of time and money.
So, how do you know what to look for in a CNC manufacturer? It comes down to capabilities, customer service, scalability, oversight and cost. First, you need a partner with experience in your field and the ability to manufacture the parts or products you need. The company should be willing to work with you to meet your needs and provide transparency, so you feel like it is an extension of your own team. Also, consider its current and future capacity. Can they dedicate more tools and staff to your products as demand increases?
Depending on your production needs, you may want a partner with great quality assurance capabilities, so you can keep your contracted production on autopilot. Or, you may need third-party certifications and the ability to oversee production, especially in quality-critical industries like automobile and aerospace. Once you've found a partner that can meet your needs, you can evaluate your options based on price. Remember to consider what the true cost will entail, including volume discounts and fees.
1. Review Experience and Qualifications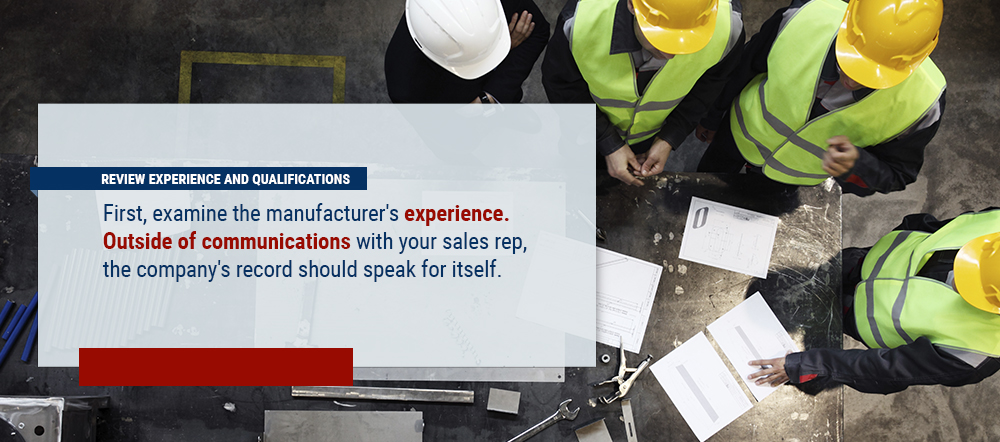 First, examine the manufacturer's experience. Outside of communications with your sales rep, the company's record should speak for itself. Look at their production data to see if they deliver consistent results and dig into any potential issues you spot. If their records check out, you can feel confident in moving forward with the contractor.
Another area to look into is their specific qualifications. Do you need a manufacturer to create a specific part or one that can manage your final product production? What industries do they serve, and what kind of items do they produce? Ask to see a portfolio of their past work and look for similarities. Be open in your discussion with the manufacturer about the nature of your product to find out if they have the capacities and equipment you need.
Once you and your potential contractor feel confident their capabilities match your needs, discuss prototyping the product and touring the facility. Once you can get your hands on a physical product and see the factory floor with your own eyes, you can feel confident the partnership will be successful.
2. Assess Customer Experience and Communication
Next, poke around to see what the company's reputation is like. The Better Business Bureau (BBB) is a fantastic place to start. A company in good standing with the BBB has all the proper certifications, few complaints and a record of resolving issues. A high letter grade is a good indicator that the contractor is legally compliant and meets the customer base's standards.
Beyond the BBB, check if the website offers testimonials or if the company is willing to provide you with a list of clients. Knowing that a company has satisfied customers willing to commend them for quality service is reassuring. You can also reach out and ask questions of customers to learn what it's like to work with the manufacturer first hand.
Once you've verified the company's reputation, you can get a sense of how their customer service works. The next step is to look at how they communicate with you. Does the contractor's team set clear plans for the proposed needs? A contract manufacturer goes beyond the service of a regular supply chain vendor to create a true partnership. Working with the initial point of contact should give you the sense that they are committed to you and your success.
Consider how they plan to communicate with you throughout the process. Are your project managers willing to update you on production, and are they proactive about potential issues? Will you hear from them only when a problem arises, or can you be as involved as you want? How does the company respond to your quality control requirements? Your contractor shouldn't ask you to work with inferior products or push back on requirements that can influence the products' outcome. Also, make sure you know what will happen when your dedicated project manager is unavailable.
Ensuring a successful partnership, even at the contractor selection stage, requires good communication and documentation on your part, too. Ensure you have documentation on all production requirements and draw up confidentiality agreements before discussing proprietary manufacturing methods or product designs. List your expectations in writing, including your objectives for the relationship, the manufacturing process, raw material selection, turnaround times and quantities, shipping and any responsibilities related to the scope of work.
3. Evaluate Production Scalability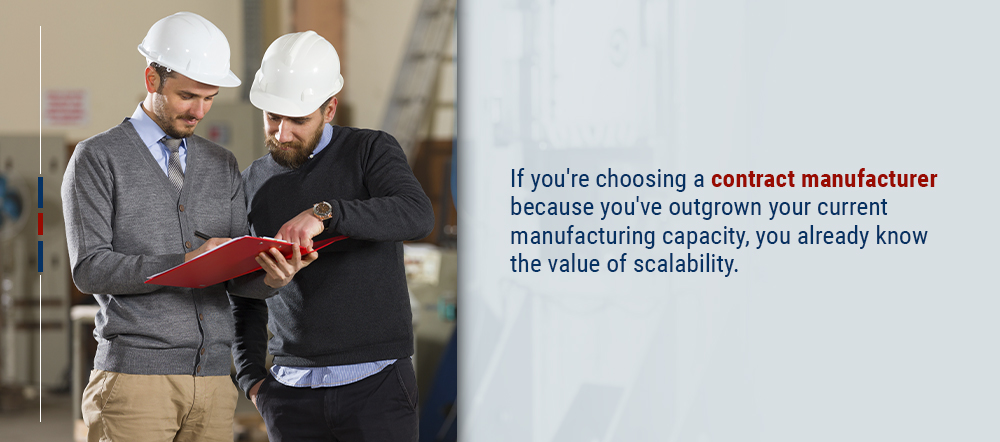 If you're choosing a contract manufacturer because you've outgrown your current manufacturing capacity, you already know the value of scalability. One reason to choose a contractor over a supplier is for the manufacturer's ability to grow with you as if they were part of your internal team. Can they ramp up production as your demand increases? Can they take on the production of more specialized parts or new products to simplify your supply chain down the road? How will they respond if your requirements or manufacturing process changes?
To find out, take a look at their resources, techniques and production management capabilities. Determine if they are already close to capacity, or if they can work with you to produce higher quantities on a deadline when necessary.
In the data reports you receive, you should be able to learn about their history with shipping and delivery. Do they have a solid record of on-time delivery? Can they deliver the quantities you need now as well as larger quantities in the future? If you need international shipping, look into their documentation to ensure they can ship across borders. Even if you do not need it now, consider if your contractor can keep pace with future global expansion.
You need a facility with a robust production management plan to ramp up production to meet demand.
4. How Much Oversight Is Required?
How you choose a contract manufacturer can depend on the level oversight you require, and oversight can depend on many factors. Some industries have extremely high-quality control requirements and need to ensure the fewest possible defects and highest quality materials and processes. In cases where you have tight tolerances for the final products and many industry regulations, you may need to have direct oversight over the facility. Or, you will have to ensure the manufacturer performs frequent inspections, including work-in-process inspections, and has frequent communication with you.
No matter your industry, your contractor should be willing to give you a window into the ins and outs of day-to-day operation, if that's what you require. Even if you don't need or want to be so hands-on, seeing a commitment to transparency can be a relief.
If you want the manufacturing process to be autonomous, you need a partner who has high production management standards even when no one is watching. They should be able to deliver consistent quality without the need for frequent check-ins. Your products are your reputation, and your manufacturing partner should meet quality standards so you can keep your excellent reputation.
Whether you want total oversight, an autonomous production solution or something between, decide who will be in charge of managing the relationship. Communicate with your potential contractor about who will oversee the operations and who they should direct their updates to, and find out who the project manager will be on the contractor's side.
5. What Is the Price of Contract Manufacturing?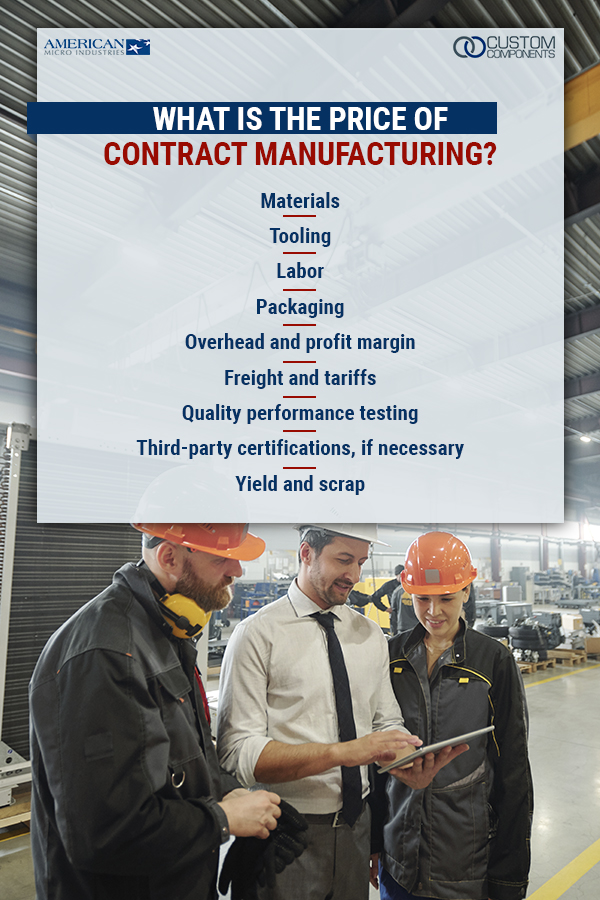 Before you can receive an accurate quote, your contractor needs to see the designs. The materials and processes involved will determine the cost, and any fees will come as a percentage of the cost to produce.
Contract manufacturing should save you money. You get to take advantage of ready-to-go equipment, infrastructure, trained staff and automation. You don't have to invest in high-tech machinery and factory space. This results in savings on overhead upfront and reduced maintenance down the road. While the fee structure can vary, here is what you can expect to see in the pricing quote:
Materials: The cost of materials, broken down by each material, will be the highest percentage of your price quote. You may be able to work with your partner to find acceptable alternatives to bring costs down.
Tooling: In CNC machining, your partner will have to program their machinery for your products. In some cases, the partner may also have to invest in more machinery.
Labor: Even though the facility uses machinery, a well-trained staff is necessary to maintain and run the equipment and manage the production process efficiently.
Packaging: You'll need durable packaging to protect the products during transit. The packaging you choose will appear in the price quote.
Overhead and profit margin: A certain percentage of your production cost will go towards maintaining equipment and the facility itself. Your partner will also add a markup for their services.
Freight and tariffs: Your contractor may or may not handle your shipping. If they do, the cost of delivery will be included in the price quote. If they do not handle shipping, you'll have to factor the logistics cost into the total cost of working with a particular vendor.
Quality performance testing: Your contract manufacturer will have some quality assurance inspections and testing onsite to catch defects.
Third-party certifications, if necessary: Depending on your industry, you may need to get your parts certified by a third-party inspector to meet rigorous quality standards. Your partner may have these services onsite and include them in your quote. Otherwise, you'll have to factor in shipping your products to a testing lab and getting them certified.
Yield and scrap: Whether a particular batch has defects or not, the manufacturer has to factor in the cost of scraping and reworking a product to meet quality standards. You'll usually pay 1%-2% for this, which will cover rework costs when they occur.
When choosing a manufacturer, you must look at the total cost of shipping, inspections, contract fees and packaging. If all these costs are lower than the cost of scaling up your internal labor, equipment and infrastructure, you can safely move forward with that vendor.
Another pricing factor to consider is volume discounts, which work in one of two ways:
Estimated Annual Usage (EAU): If you can commit to a certain number of products per year and outline a buying cycle, your manufacturing partner can better plan the cost of materials and production to arrive at the best pricing.
Minimum Order Quantity (MOQ): Many components come in particular quantities. If a raw material comes in a package of 5,000 units, and you only need 3,000 finished products, the manufacturer needs to account for the other material they've purchased. They may offer you a minimum order quantity and additional discounts when you increase your order by a certain amount.
Remember to look at these discounts when scaled to your quantities and compare it to others in the industry. Try to go beyond choosing the partner with the lowest cost per unit. In most cases, the cost per unit captures only 70%-80% of the total supply chain cost. The costs may increase when invisible fees and other internal costs come into play. Consider the quality of the final product and the reliability of the operation. Ask for a contract with all the fees included, so you can compare each company on equal grounds.
Remember, there may be things you can do on your end to bring costs down, too. Using a Design for Manufacturing framework, you can reduce costs by optimizing your product for machinability. The easier it is for the contractor's machining to produce your products, the lower the total cost.
Choosing the Right Manufacturing Partner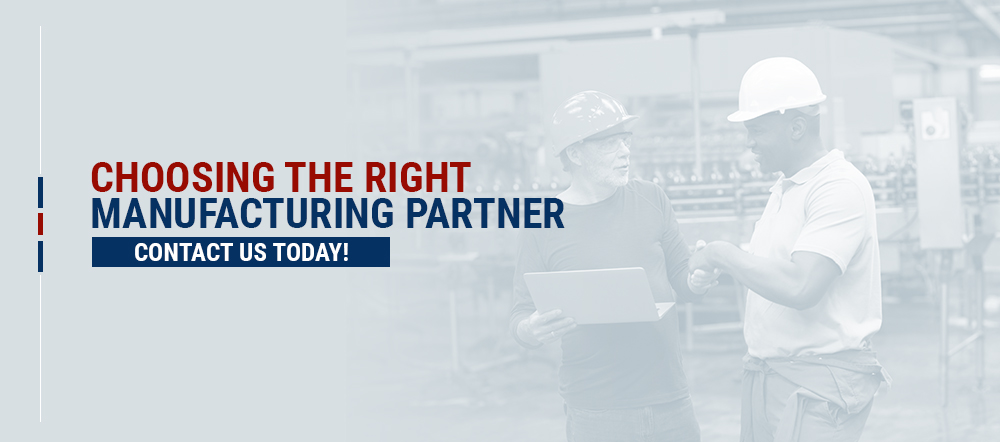 We at American Micro Industries strive to be one of the best CNC manufacturing partners in the business. We're a custom manufacturer with the goal of complete customer satisfaction. We work hard to achieve on-time delivery with fast turnaround and competitive pricing.
If you place dependability and customer commitment as a high-priority for your partnerships, we encourage you to take a closer look at our capabilities. Start by browsing our fantastic selection of materials and manufacturing services. Then, request your free quote to send us your project specifications.
We look forward to hearing from you and meeting your custom components needs.